Social Media Marketing (SMO)
---
Social Media Optimization(SMO)
SMO. Some call it social media optimization. Others refer to it as search marketing optimization. Either way, it is the next wave of online marketing, the perfect marriage between search engine optimization (SEO) and social media. There are several methods to increase the visibility of your website and drive targeted traffic to your website. It doesn't matter whether you're a small business or a large enterprise, you can use the power of social media to promote your business.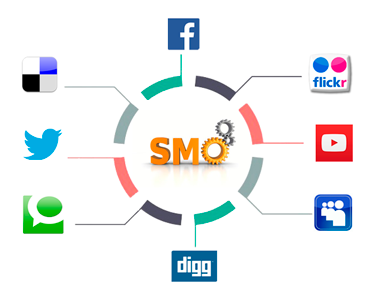 What is Social Media Optimization (SMO)
Social media optimization (SMO) is the process of increasing the awareness of a product, brand or event by using a number of social media outlets and communities to generate viral publicity. Social media optimization helps connect all of your social media accounts in a cohesive, consistently branded network that points your potential customers where you want them to go.SMO also refers to software tools that automate this process, or to website experts who undertake this process for clients.
How we help you realize your business goals?
We at HR Infocare PVT LTD, which is a force to reckon with in terms of social media optimization company India, try to envisage on ideas and strategies which fetch profit and benefit to your line of business. With our expert guidance, sharing across social media and networking websites will be a breeze!
Some of the Social Media techniques we use include:
Social Bookmarking
Social Profile Listing
Social Event Creation
Media Sharing
Blogging
Engaging Audience and Much More..
As a Social Media Marketing Company with client-centric approaches and objectives, HR Infocare PVT LTD leaves no stone unturned in utilizing the power of social media for you. We also guarantee that we will manage your site's user engagement. We will bring upon Social Media initiatives and promotions to drive digital marketing and fetch crowd and user traffic. Our Range of Services
Building a strong presence on each of the social media platforms will prove to be highly beneficial for your business. Our social media marketing/ SMO Services include:
Facebook Marketing Services
LinkedIn Marketing Services
Twitter Marketing Services
Google Plus Marketing Services
YouTube Marketing Services
Pinterest Marketing Services
OUR CLIENTS